"I know a guy," she said.
When you think of the word "butler," what comes to mind?
A man who is courteous and attentive. Someone who is prompt, discreet and extremely skilled at anticipating the needs of others.  He is also patient, flexible and quietly diligent.
With that in mind, let me tell you how I came to rely on the Digital Butler for my graphics and printing needs. I am an author and illustrator based in North Vancouver. I freelance in print and radio journalism and now, thanks to the Digital Butler, I also run a small business creating and selling modern art for children.
In the summer of 2013 our younger son was two and diggers were his passion. Every day he would ask me to draw diggers, tractors and trucks – over and over again. I became an expert at drawing mining excavators, forklifts and cranes.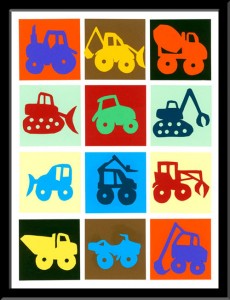 Several months – and several hundred drawings later – our young art director was becoming more and more specific in his instructions. I was now to cut out these drawings so that he could handle each one. After cutting them out of hardware catalogues, newspapers and tractor adverts, I bought what I thought was coloured paper to brighten them up a bit. Having made a bunch of cut-out vehicles, I stuck twelve of them on a piece of paper and slipped them into an old frame.
Shortly after that, I took our little guy to a drop-in playgroup in West Vancouver. There, I got talking to one of the other moms, who turned out to be an art educator. "You should get prints made of those diggers. I know a guy," she said. Then she gave me the number of the Digital Butler in Dundarave.
I posted a photo of the diggers in Facebook, just for fun. Within a few hours, I received several comments. The first of these comments was, "May I have one, too?"
I called the Digital Butler and my new business was born.
Copies of that first print have shipped to France, the USA, the Channel Islands, Germany and to numerous addresses in Canada. These were followed by posters and cards of butterflies, boats, British Columbian wildlife, dragons, owls and monkeys – and more. My early orders were tentative but the Digital Butler treated these small orders with the same care – and to the same prompt, reliable service – as if I had been ordering in the thousands. Vasgen has printed on different papers, canvases and greeting cards; he has helped piece together new artwork and reprinted other pieces many times. He replies to emails promptly and has been extremely patient and flexible, when coaching me through the production process.
When you're looking for a print studio to reproduce your art, it's true that you have many options. Plenty of stores – and websites – offer a wide range of services, products and prices, and I don't doubt that they do an excellent job.
However, when you go to a print master who is also an artist, there is no doubt that your work is safe hands: his commitment is evident in the way that every job is treated like a custom project. Every job receives the same attention and the same fine-tuning. There are standard prices but the service is always personal.
In other words, you don't just walk away with a print job – you  leave with an arm full of possibilities.
There may be many ways to get your images digitized and printed. But there is only one Digital Butler.
Shula Klinger, PhD
Author | Illustrator | Journalist
www.shulaklinger.com/art-for-kids/